Hello!
In our third meeting Antoine and me we went outside for a walk in the main street.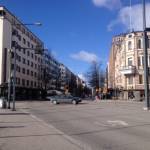 We thought about the things Antoine should know about daily expression, so I taught him greetings in different situations.
When we were walking I started to ask Antoine how he should ask for a direction to a young or older person (because in italian there is a difference when you talk to a young or an old person).
When we came back home, Antoine taught me the adjectives and the nouns. Some of them I remembered but others I almost totally forgot, that's why was useful this lesson also because Antoine prepared exercises for me.
Bye!