We met in Pyynikkisali last Thursday. This time before the performance we studied languages about school, teacher, things like that. Laura taught us some grammar of Finnish. I learned some things such as some differences between English and Finnish. There are no articles and words have no grammatical gender in Finnish. By contrast, we have words for him/her but there also are no articles in Korean. And we use postpositions instead of prepositions
for example: in + the car / auto +ssa / 차+안에
and then I taught Laura some words, and tense about past, present, future in Korean.
After studying we enjoyed the concert for about an hour. They performed a lot of songs that are musical, film music. I haven't seen a performance for a while. It was really good.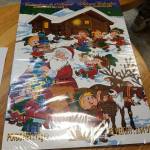 I was given this one by her. Thank you for the gift.  See you guys next meeting.