I lost two before meeting because of school schedule and unchecking message.
So, it's actually, 9th meeting in our group, but 7th to me.
We met at the Vapriikki.
Before that, I heard about Vapriikki from other exchange students who visited there before.
As I head, It was various.
Especially, we enjoyed looking 2nd floor which have a theme about Finnish nature and industry.
We had a funny time like a kids!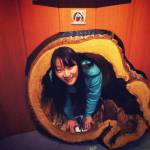 On this day I can see and experience how much Finnish people love Ice hockey and their industry.
And also felt we are pretty friendly already!
I felt so happy because I didn't see other members quite long time.
I miss you already