.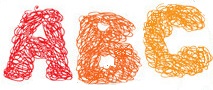 This time around we did teach each other our alphabets.  To me this was rather interesting as I was thinking of using the Hungarian alphabets for an art project later on.
However, our first realization was that in the Hungarian alphabet there are a way more letters than in the Finnish alphabet. We counted that in total Hungarians have 44 letters and we Finns 29. This was partly explained so that in Hungary they don't really use letter
Y,
but they combine it with other letters to form such letters as
GY, LY, NY and TY.
In the Hungarian language they also have such combined letters as
DZ, DZS, SZ and ZS,
which all were really strange to me, who has got used to it that one letter is only one letter – not 3 letters together.  So, to me the Hungarian letters were kind of beyond understanding, which actually made learning them lots of fun.
We also did talk about it that neither in Hungarian language all the letters are equally important, but there are some 4 that they hardly use. Though, on the same time, some letters seems to be almost too popular. If you only look at the alphabet, there are 2 x A, 2 x E, 4 x O and 4 x U, even if you, of course, pronounce them differently.

In Fruzsi's blog post you are able to see the entire alphabets.