Hello Everyone! First of all, I would like to give you a short introduction about myself.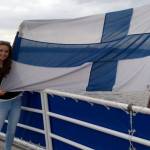 My name is Julia and I'm a 20 years old girl from South Germany. I am currently a first-year student of International Business and I am living for about one year and a half in Finland. Before I started to study, I was working as au pair in a Finnish family from where I already got the basics of the Finnish language.
The "Each One Teach One" course is a great opportunity to practice my Finnish skills, especially the speaking in which I am not confident yet.
When our German-Finnish group met for the first time, it was Liebe auf den ersten Blick – love at first sight. But at the same time, we were also facing a problem: With five people our group is the biggest group of the course and in addition I am the only German in there.
Despite everything we believed that we would figure out how to arrange our future meetings so that everyone would be able to meet with me at least ten times.
So, during our first (unofficial) meeting we were presenting ourselves, talking about our language levels and what we wish to achieve during the course. We also tried to come up with ideas where we could meet and what we could do together.
The people in our group are very kind and funny and I am looking forward to our meetings!
Julia's vocabulary:
Getting to know each other
| | | |
| --- | --- | --- |
|   |   |   |
| Hello/Hi | Hallo/Hi | Moi/Hei |
| How are you? | Wie geht es dir? | Mitä kuuluu? |
| I'm fine. | Mir geht es gut. | Hyvää kuuluu. |
| What is your name? | Wie heißt du? | Mikä sinun nimi on? |
| My name is… | Ich heiße… | Minun nimi on… |
| Nice to meet you! | Schön dich kennenzulernen! | Hauska tutustua! |
| Where are you from? | Woher kommst du? | Mistä sinä olet kotoisin? |
| I am from… (Germany) | Ich komme aus… (Deutschland) | Olen kotoisin … (Saksasta) |
| Where do you live? | Wo wohnst du? | Missä sinä asut? |
| I live in… (Finland) | Ich wohne in… (Finnland) | Asun… (suomessa) |
| Which languages do you speak? | Welche Sprachen sprichst du? | Mitä kieliä sinä puhut? |
| I speak… (English) | Ich spreche… (Englisch) | Puhun… (englantia) |
| I don't speak… (Swedish) | Ich spreche kein… (Schwedisch) | En puhu… (ruotsia) |