Our second last meeting took place at the trampoline park in Kauppi sports center. The booing system was a bit confusing, and I wasn't  sure if I needed to book the time beforehand or not. I ended up booking it, but I'm still not sure was it mandatory :D. 
Trampoline jumping was super fun way to start the day (we went there pretty early, so Vilma was able to join from her group projects). We all were quite exhausted of the workout, who would've known, jumping can be hard workout. Or maybe we are just way out of shape. 
First we went at the freestyle trampoline area, just fooling around, but quickly we moved to the airbag-trampoline and the foam cube -pit area. There we had a chance to jump away from the trampoline and try (note: try) to make some tricks.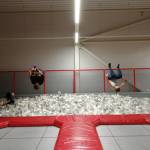 We talked about studying , how our studies at this period have gone, how they differ from countries and also the grading systems. We didn't have much time to discuss a lot about cultural things, but at least we had fun at the park.