So yesterday (April 16th) Marie and I met at my place to cook some tacos!
It was an easy recipe what i tried to teach Marie, because in Tampere we do not have all we need to make proper tacos. I actually was attonished by finding some real tortillas in Sokos.
We cooked some meat with choped onion in a pan.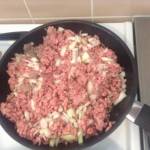 Meanwhile we made some "GUACAMOLE". Guacamole is made in very different ways in Mexico, but i went for the easiest recipe. We choped avocados, tomatoes and onions. Then we mixed everything.  We also cutted a chilli in small slices -but we left it aside in case it was to spicy for Marie, good news… IT WAS NOT!!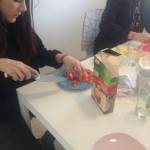 Then everything was ready. I warmed a couple of tortillas , but them in the dishes, and then served some meat on top. Then, i told Marie that what we commonly do in Mexico is eat tacos with our bare hands, we add some guacamole and if we have, sauce, and then we  take the tortilla by the sides and bite!!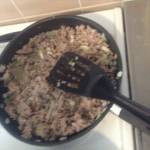 Truth be told, it is a little bit hard at first to get the trick on how to eat tacos. The first time someone tries to, normally spills all the content of the taco in the plate. By her second taco Marie was doing a lot better and she even put some chilli slice in it!!!!