Hello!
Today we met for the first time to study each others languages, Finnish and Korean. We went to Tampereen Vohvelikahvila, a famous cafe in Tampere for it's delicious waffles. It is quite cozy little cafe, small, but very popular.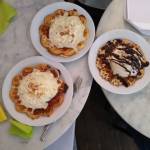 The whipped cream on my and GaYeons waffles had time to melt a bit, but the waffles were tasty anyways. I do recommend!
We had prepared some studying material, for example alphabets and introductions to teach. There is quite a difference between Finnish and Korean alphabets, and some sounds are strange also. Some letters in Korean alphabets sounds exactly the same for me.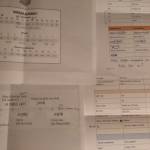 Here is a picture, where you can see the Korean alphabets, and some material, that I had prepared. In my material (on the right side of the picture) there is words in Finnish in the first column, then the second column is for the English equivalent, and then there is empty column to put translation in Korean. We also went through numbers 1-10 in both languages.
As a teacher I gave GaYeon and JunHyeok a lot of information about Finnish language, and I hope I didn't confuse them with my passionate explanations. 🙂
In the future, I think I have to think more carefully how I teach, and maybe add some useful complete sentences to the material. It is a bit difficult to teach when you don't really know where to start.
As a student learning Korean, the most difficult thing to me to learn will be learning to pronounce the different sounds correctly. I am glad that I have two teachers, because everyone teaches differently, so I will learn in two ways and maybe understand a bit better.
All in all, I think we had a great start for our language learning sessions, and we get along really well. I'm looking forward for our next meeting.
-Laura