We met at Janica's home to celebrate a Christmas Party!
In the begining she showed us a Photo Album of her Exchange to Argentina. It was very fun to see all the pictures and to listen to the stories she told us! She was staying in Buenos Aires, but also had some time to travel to Uruguay and Brasil- It was very funny because when I saw the picture of her in the beach in Montevideo it happens that I live 2 blocks away from the place the picture was taken!
From her visit to Argentina Janica has a mate, so she had it ready when we arrived. Getuar had never tried mate so I was very excited to see if he would like it or not. The mate had some sugar in it, so it was not the original one (it is very bitter) but it was ok for him.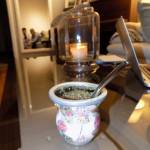 We spent the evening listening to Christmas songs and telling each other how do we spend Christmas time. We had some Finnish Christmas food: joulutorttu, glögi, ginger breads and chocolate. It was a lovely evening and I didn't wanted to end!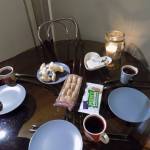 It was very nice to meet Janica and Getuar so I will be forever thankful to this course of giving me the chance to meet them! I hope we can meet again in the future!
At the end of the meeting Janica was so nice to gave us a ride back home 🙂