I was so sad when I realized that this is our last meeting. We decided to relax and enjoy our very last EOTO-meeting. We went for a coffee and discussed our journey together. Everyone told their favorite memory of the course. My personal favorite was the first meeting in Huurre when I got the chance to meet these wonderful people for the first time.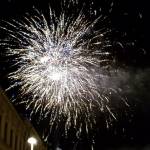 It was Independence Day so we kind of celebrated both- the independence of Finland and the end of the course. We walked around the Christmas market in the city center and talked about our future plans. We all agreed that it would be nice to see again someday.
The firework show was absolutely beautiful!
Thank you Maksim and Yulia! I'm going to miss our meetings together. Спасибо большое! <3