Today half of our group stayed at the hotel to have a day off. Other half woke up early to go to Mamudah village where MMK Finland and Njaboute foundation organized education of non-circumcisation.  The aim of the education was to share information about FGM to the local people. Today only women showed up even the whole family was invited. Non-circumcised education lasts for two days and they have different topics for each day. Today we talked about anatomy of female genitalia, over view of the Health System in the Gambia, FGM/C in Africa, cause and effects of FGM/C and Counseling Techniques.
We were divided for 3 smaller groups to discuss about different topics and represent the outcome for the whole group. Tiina was in a group B where the topic was: the importance of the clitoris. First of all some the women mixed up perineum and clitoris even we had just went through the anatomy of female genitalia and we got a feeling that the anatomy  wasn´t their strong point. It was quite difficult to discuss with people who see things so differently and who didn´t share the same language. Two of the young nursing students who spoke both languges, translated to us what the ladies were saying and they thought that the clitoris had no function and it was ok to cut it off completely or a part of it which seemed to be common.
Nea was in a group C where the topic was: Causes of FGM/C. All of the lo cal women had really strong opinions on the behalf of the topic and that surprised us because our opinions was totally opposite. Most suprising was that many of them was even defending FGM. We found the myths and beliefs shocking. For example the claimed benefits were low risk of cancer, fewer infections from microbes gathering under the clitoris, protection of herpes. Tribal myths: non-circumcised women causes the death of the husband, reduces the chance of getting tetanus unless the girls clitoris is removed she will not become a mature woman, prevents divorce since enchances the husbands pleasure during sex.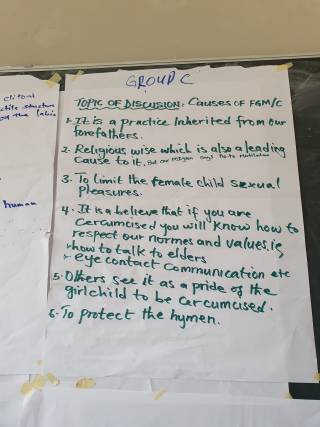 It was interesting but at the same time very frustrating to see how many women were still supporting and defending FGM. Organizing education occasions like these are very important to arise the awarness is very and hopefully in the future things will change for the better.
Terkuin Tiina ja Nea