On Friday we organized an experience day for all the kids from both MMK nursery schools. Friday was also our last day at the school. Kids and teachers from Busumbala travelled to Brufut that everybody could be together on our last day.
The experience day we had made for the kids had four different stations and each station had it´s own function. The first station was about sensations and in this station the kids for example had to draw with a finger on one anothers back and guess what they drew. The second station was about smelling and tasting new things blindfolded. We had brought different stuff from Finland like salty licourice and gingerbread cookies. In the third station we had different noises that the kids had to guess what they were. Noises were made by using for example shells, rocks and bottles. In the last fourth station kids got to paint their own hand print in a big poster. We had also painted our hand prints in the poster along with the teachers.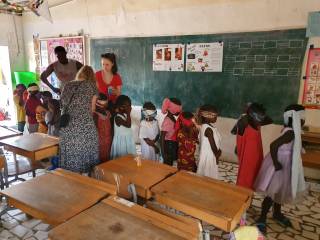 It was intresting to see all the kids together and see the differences between the two schools.  Between them there was a big difference how the kids concentrated and listened to the instructions given. They were too shy to play together at first but in the end we were all dancing and singing together and we really think the kids enjoyed it very much.
Both schools had made a performance for us. Others were singing and dancing to show us how a traditional wedding in Gambia looks like.  And the others wanted to show us what they had learned from the lessons we had given them. We were surprised how well they knew and remembered and happy that the lessons weren´t for nothing.
In these 2 schools they tend to sing a lot and they have a song for everything so we decided to make our own for MMK to thank Maire and Kikka. At the end of the day it was time to say goodbyes and we got a bit teary since MMK had enabled us this amazing and unforgettable experience that we will remember for the rest of our lives.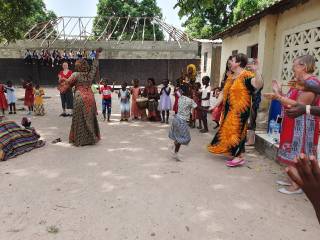 Great thanks to MMK and Gambia for this amazing trip!
Terkuin Tiina ja Nea