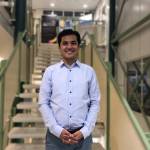 We had an interesting chat with Khalil Mozaffari, a first-year LFC student. Khalil studies in the track of Sustainable Business Management and he is also a student in the double-degree programme Cross-Border International Relations, which is offered by the Faculty of Management (University of Tampere) in cooperation with Petrozavodsk and St. Petersburg State Universities in Russia. Besides discussing practical matters, Khalil encouraged to look deeper in ourselves when considering whether to apply to the Master's Degree Programme in Leadership for Change: "This programme develops you and it makes you ask questions what kind of person you are and what kind of person you want to be, whether you are ready for the change. If the students are ready for the change in themselves, then the Master's Degree Programme in Leadership for Change is the right choice for them".
Who are you? What is your educational background?
I'm Khalil Mozaffari, originally from Afghanistan. I have been living in Finland for 4,5 years. I got my Bachelor's degree from Haaga-Helia University of Applied Sciences. My major was International Business. I have a rather wide background: I have also been an English teacher, I was teaching for about five years, which is why I'm aware of teaching methods and skills. I was teaching in Turkey mostly to students in college, high school and elementary school. And I was working as a substitute teacher for private institutes. Most of my English teaching was of intermediate and upper intermediate levels. Teaching is, of course, very different than being a student.
What are your hobbies and personal interests?
My personal hobbies are playing badminton, and of course listening to music and watching movies. Regarding movies, my genre preferences vary, depending on the mood. Most of the time I am reading, especially about spiritual element of our life. I like self-development books, and leadership is one of the topics that interests me. I also enjoy poems and philosophical books related to big and complex questions such as the meaning of life. Philosophy can give answers to these questions – where do we come from, where are we going, and so on. I like to look at this from a positive perspective andI find meaning in everything. As a personal interest, I also give lectures about  spiritual development. Recently a teacher here asked to tell a secret that no one knows, and I told them about this. I give lectures to people in the Kokkola community. For the last four years, I have been going there every year. This year, I went there for about six nights, and each day I lectured about how to become a more meaningful person for yourself and also for the society, and how to be happy within yourself. If you can feel that happiness, you can also spread it to other people. When you interact with people, they can feel whether you are happy or not.
How did you find out about the Master's Degree Programme in Leadership for Change?
I was thinking of studying in a master's programme and I was searching University of Tampere's website.  I found Leadership for Change so interesting and I didn't even know there was this kind of programme! I don't think anyone in Finland, besides University of Tampere, offers something like this. I'm a person that doesn't think about just one topic, but I think about wider topics and that's why a degree in International Business couldn't satisfy me. I'm also interested in politics and international relations, for example. I thought this programme could answer my needs. It's multidisciplinary and covers many topics and social fields. And I really liked the name of the programme! I felt this is my cup of tea and I could find myself here, and perhaps the programme could help to make me successful in the future. I'm also studying in the double degree programme Cross-Border International Relations. I thought it would be interesting to study that, even though I study in the track of Sustainable Business Management. If you want to bring peace into societies, you shouldn't think only in terms of one topic, but you need to have a wide range of different knowledge to become a real leader, not just a manager that tells what to do. I think leaders are the ones who go together with the group and have the passion to do that, instead of just giving orders. I think we should begin from ourselves and then we can make a positive impact on others.
What makes Leadership for Change relevant today?
I think this programme is very important! In today's life, we can't have knowledge just from one specific area. We need people who have a wider range of knowledge, who can manage in different areas. If the manager from a company has knowledge only about accounting and doesn't know about politics behind the taxes, for example, or what's happening in the society in other fields, then we may not be really successful in what we do.
If you are building a house of bricks, you need cement to keep the bricks together. I think this programme functions as cement that attaches together bricks of different fields that the society consists of. It can make the society stronger.
How would you describe studying in the University of Tampere?
Compared to studying in Haaga-Helia in Helsinki, it feels much more active here. Here, we focus more on the reading approach and research approach. I like the atmosphere here. Tampere is a very cozy place for students to live in. At the university, there are many interesting programmes I had never seen before. There are many events organized for students, which makes it very social. Of course, it's up to you if you decide to be social. The library here is always full of students, which is very good – that actually motives you to study more! It wasn't like this in my previous school. This must be the difference between a university of applied sciences and academic university. Everyone is active, doing something, learning!
Compared to studying in the university of applied sciences, studying here does feel more challenging, because you need to write more – essays, learning diaries, literature reviews… It is more about research here, whereas in the university of applied sciences it is more about the practical matters of working life. Here at the university, we establish the foundation, which you can continue to build and develop after your graduation. This is about knowledge. I think students are learning more that what they expected – it's definitely more than what I expected. Already in the first few months you feel that yes, this is something I didn't know before. You can find connections between different fields, how they are related to each other.  Leadership for Change is about finding connections about all fields of study. These connections explain phenomena. It is about the skill of seeing the connections and having a wide perspective.
What are your favorite things to do in Tampere?
I have been living here since August. I like walking in Tampere. The city center is compact, you can easily reach the two lakes and be part of nature. The autumn this year was beautiful – I hadn't seen an autumn like that before! Thanks to Tampere's location, it's very easy to travel to other cities. For example, before it used to take four hours to travel from Helsinki to Kokkola, whereas now it takes only two hours to travel there from Tampere. And it's not that far from Helsinki. I also like a lot the social events in Tampere and the atmosphere, the milieu of the university. When you enter the university, all of you just feels happy!
Regarding cafés, I like Fazer cafe by the Hämeensita bridge. I sometimes take my laptop and work from there.
Leadership for Change consist of three tracks. You chose the track Sustainable Business Management. Why did you choose this track?
I thought this would fit my background, considering that I have a Bachelor's degree in International Business. I wanted to get influence also from other tracks rather than being focused in one specific area from the field of business. Also politics and governance interest me, as everything is related. The economic agendas are often the reasons why politicians change laws.
What do you wish to get from your studies?
The programme has been made professionally and the content of the programme is very related to leadership and the three tracks. This could pave the way for my future career by preparing me to work for the government or NGO. Or to start a NGO! Now I'm in the process of gathering knowledge and I'll see what the future brings. I'm sure this programme will help me a lot in the future, even if I decide to get a PhD degree. I really enjoy teaching – and also teaching needs leaders. Teachers are at the same time also leaders. You aren't teaching just for the exam, but you can teach so that the students study for their own passion, caring for them. This programme develops you and it makes you ask questions what kind of person you are and what kind of person you want to be, whether you are ready for the change. For example, the course Current Trends in Leadership makes you reflect on these questions. If the students are ready for the change in themselves, then the Master's Degree Programme in Leadership for Change is the right choice for them.