Anne Larilahti holds the position of a Vice President of Corporate Sustainability at Finnair. Previously, she has worked as the Vice President of Sustainability at Telia in Sweden, Head of Sustainability at Nokia and as a Managing Director for Finnish Ski Area Association. Under her leadership, Finnair focuses on six of the 17 Sustainable Development Goals of the United Nations. One of Finnair's goals is to cut its emissions by 50% of the 2019 emissions level by the year 2025 and become carbon neutral by the end of 2045.
Larilahti studied marketing and economics at the University of Tampere. While she was interested in environmental studies and business, at that time sustainability studies were not yet available. Working at Nokia around the world, she realized that the company was advocating for a social change. "Bringing a business into a country starts a snowball effect", Larilahti mentioned. Her experience at Nokia in Kenya and ski resorts in Finland helped to realize the importance of sustainability for the world and further sparked her interest in the subject.
Anne Larilahti mentioned that sustainability is a broad concept, which obliges companies to prioritize and decide what sustainability means for them, and what will be their focus in contributing to a sustainable development. There is a need to balance stakeholder expectations and the company's strategy. She talked about the grey area of what is good and what is bad, and highlighted that there is no right answer for actions. Instead, companies need to know what is right for them and find their way. "You do not have to get it to the top right [of the scale], it does not work for everybody" Larilahti highlighted. However, companies cannot reach the higher levels if they have not completed the lower ones. It is important to build step by step, from the ground to the top, as illustrated in the picture.
The UN Sustainable Development Goals and Finnair's strategy
Finnair's strategy includes sustainable and profitable growth, sustainability in all operations, being coherent and consistent. It focuses on six UN sustainable development goals – climate action; peace, justice, and strong institutions; industry innovation and infrastructure; responsible consumption and production; gender equality; and partnerships for the goals. Larilahti mentioned that it is not easy to find a balance between the goals. She mentioned that Finnair flew a lot last year and it was fantastic, but there are many problems because of it, too. It's important to find a balance, because the social and economic costs are not acceptable. "We have to make sure we always find the balance and know where we are aiming at", she said.
Finnair's six focus SDG's
Sustainable and profitable growth is a part of Finnair's strategy. Larilahti mentioned that "since we are based in the Nordics and have a strong government ownership, we are already a really sustainable company."  Finnair exercises all dimensions of sustainability – social, economic, environmental, and governance. This is illustrated in all of their operations. For example, engaging contractors to join a sustainable business, achieving waste and plastics targets and creating new ways of reducing it, ensuring employee wellbeing, diversity, and inclusion; a strategy contributing to Finland's GDP, a sustainable impact on destination countries, working on accessibility, reducing meat as a future goal, and zero tolerance for illegal wildlife traffic. She highlighted that the SDG number 16 'Enable quality of life in the globalized world' needs to be done without harming the environment.
Climate targets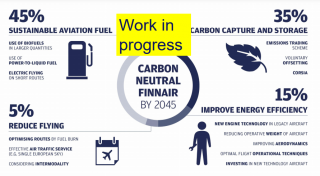 Currently, climate concerns are the biggest challenge for the global aviation industry. Aviation produces 2% of all CO2 emissions created by humans. "Two percent is insignificant compared to the coverage we are getting from the media. But we do need to improve a lot" Larilahti said. Aviation accounts for 12% C02 of total transport emissions, while 74% accounts for road transport emissions. To support climate stability, Finnair aims at reducing 50% of net carbon emissions of the year 2005 by 2050 and supporting carbon-neutral growth of international aviation. In the past year, Finnair has been improving fleet efficiency by 1,5 %.
Finnair's other climate targets are carbon-neutral non-flight operations by the end of 2022, a 50% reduction in net CO2 by the end of 2025, and carbon neutrality by 2045. The reason Finnair does it this way is that it takes five years to do 50%, and 20 years to do the rest. "This needs to improve all the time, not tomorrow, or next year, but now" Anne Larilahti emphasized. It is important to understand that CO2 emissions are not just Finnair's, or even Finland's, challenge – we need a global perspective. Anne encourages each traveler to take responsibility and reduce one's emissions via taking as little baggage as possible, flying the shortest itinerary, choose a carrier with a modern fleet, and pre-order meals. "If Finnair's passenger would take one kilogram less baggage with them, we would save 1,2 million kilograms of fuel per year. This would be enough to fly 20 flights between Helsinki and Tokyo", Larilahti notes.
COVID-19 – Working with sustainability in pandemic and post-pandemic times
Anne Larilahti talked about the COVID-19 pandemic and how it was not expected, because people were focusing on other things. Interestingly, when the pandemic hit, people were still focusing on other issues. Typically, people have only one crisis at a time in their minds. Larilahti was happy to see that despite the pandemic, the climate concerns did not disappear. "This shows us how strong we are working around the problem, it does not go away easy", she said.
Anne Larilahti wanted to highlight three different things companies should focus on during and after the pandemic. First, strike a balance – now it is even more important than ever to think about sustainability. Second, be a partner – companies need to be able to partner with others. That is the only way to create innovations. There is no innovation or collaboration without trust. Lastly, seize the moment – never let a good crisis go to waste, learn from it and put it to use. This enables to do certain things which were not possible otherwise. "It is important to use this moment to see the weaknesses and make sure that when we are back, we are stronger than ever. We had to reset, so it is the perfect time to build back from there. The world is not going to be the same, so use the moment wisely", Larilahti highlighted.
We want to thank Anne Larilahti for a great presentation and for giving us even more motivation for sustainability studies!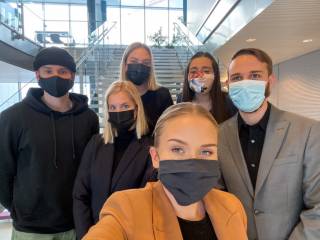 The LFC Lecture with Anne Larilahti was organized by Jere Vuorihuhta, Wilma Makkonen, Isabel Rangel, Susanna Holma, Nelli Lius, Daniel Weiler, and Yulia Gulyaeva. The blog post was written by Nelli Lius and Yulia Gulyaeva.