Jyrki Katainen stressed that the most extreme challenge we face today is the loss of biodiversity. The problem is linked to climate change but is a less talked and less popular phenomenon – a true grey rhino event for our lifetime. Over one billion species and organisms are under threat today. He underlined that alarm bells should ring if the soil cannot absorb water anymore or pollination does not happen naturally. These are all signs that we are using our natural resources irresponsibly in an unsustainable manner and thus further damaging the environment.
Katainen emphasized that he, like all of us, was taught in school that every species in nature has a function and a purpose. If these species will disappear, it will create problems for the whole ecosystem and for human health. He hoped for a systemic change that is not just focused on conservation.
He foremost saw circular economy and the changing role of capitalism as primary drivers for a new economic direction. Sustainability should be the main instrument when building a new economy. However, he stated that this does not mean smaller or zero growth economy. Through circular economy, the systemic changes can be introduced to our linear thinking of economy and the capitalistic system. It would not be the sole solution for economic decoupling, but it would open the door for more sustainable thinking in our society.
Katainen presented an interesting perspective that decisionmakers should understand the market economy as a hardworking assistant. It just needs a new task to perform, and we as a society can implement that change as well as its working methods through regulations, sustainable business model and a specific focus.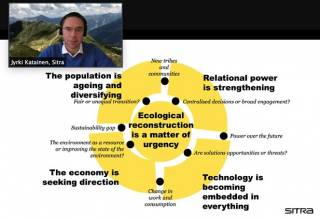 Jyrki Katainen, President of Sitra, outlined the key megatrends of our future.
Katainen draws attention to strengthening of relational power and noted that we are more dependent on technology as it is embedded in everything. For example, social media has changed the political participation and grassroots activism. On a positive notion, it has given a voice to people who did not have it before. At the same time, it can be used in many negative ways such as growing opportunism in politics and political populism. This has led to a situation, where alternative facts have replaced facts, government officials are targeted, and fundamental human rights have become relative.
There is a need for data regulation on an international level, so that everyone could play with the same set of rules. Currently, big companies have created the rules on data, which are based on their business interests. On the other hand, on a state level, for example in China every data bite is owned by the government and it can use the data for its own purposes. This clashes with the Western ideals of privacy, protection and trade secrets. Without regulation and global rules, the questions of privacy and protection will magnify when societies turn to new technologies such as Artificial Intelligence and 5G networks.
However, mending the global rules-based system will have its challenges as fundamental liberal democratic values, such as the rule of law, are questioned even inside the EU. This will create pressure inside the EU to get its own house in order. Then again, Katainen noted that the new administration in the United States could revitalize multilateral cooperation and renew liberal and sustainability-oriented agenda in multiple fields.
Katainen highlighted that even the drastic changes that the COVID-19 pandemic has brought upon have silver linings. The pandemic has raised awareness on how to build a more sustainable economy and more resilient societies. At the same time, private companies are more eager to redress problems in their supply chains, develop new technology and to understand more how global megatrends could affect their future. This can be seen as a way for both the public and private sectors to come together to address the structural change and simultaneously develop more sustainable regulations for the economy. However, Katainen offered his own view on how to stabilize the economy after the pandemic. He stated that he is not a politician anymore, but one did notice that his strategy was primarily paying the debt by cutting social services and not raising taxes.
Lastly, Katainen advised Tampere University students to make the most of their studies. Reflecting on his own experiences in Iltakoulu, the political science students' association, and his exchange studies at the University of Leicester, Katainen encouraged students to participate in such activities as they are life-changing experiences.
Thank you, Jyrki, for inspiring lecture about megatrends, circular economy and systemic changes!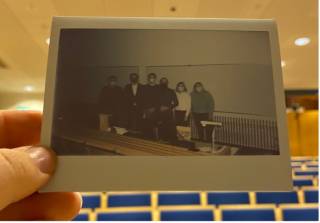 The LFC Lecture with Jyrki Katainen was organized by Adéla Nováková, Aleksi Alanko, Paavali Koivula, Tuukka Tulosmaa, Saara Hildén, Mari Issakainen, Mika Langel and Petri Lepistö.
Written by Petri Lepistö.