Phew. My first ever cowriting week is now behind me. Sitting at Schipol airport, I have this feeling that maybe this is what I've wanted to do all along. At times it was stressful, tiring and hectic, but all negative emotions were overshadowed by the joy of working with nice, talented people and collectively giving birth to a song.
Five of us from TAMK went to Leeuwarden, Netherlands for a cowriting week as a part of Minerva Academie voor Popcultuur's international week. We TAMK students worked as the producers, and students from PXL-Music (Belgium) and Academie voor Popcultuur worked mainly as musicians.
From Monday to Thursday we were each day given a new assignment concerning the day's song. One assignment was to write a song that uses the harmonic minor scale, to name an example.
The usual workflow was that we spend the first 30 to 60 minutes talking about our thoughts concerning the assignment, maybe finding a reference track and naming a subject around which we would build the song around. The subject could be anything from a list of words, a sentence, an emotion – it varied a lot.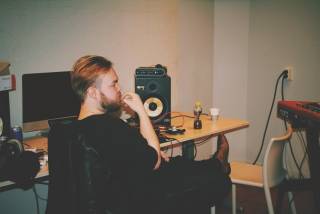 After that we laid down some chords and the structure of the song. Everything that happened in the following five hours is what I imagine working at a busy restaurant is like: all things happen at the same time and you're just busy organizing all the ideas and thoughts that fly your way. But the hurry never really got to me, except in the last hour before our listening session with teachers and the other groups. I didn't even have my computer crash once!
I think the most interesting aspect of cowriting is how three people can come together and fit all their expertise and emotion in a very short story. Telling an impactful and memorable story with chords, lyrics and a melody in three minutes is an artform of its own.
It was also interesting what effect changing even one member of a group had. On two days I worked with a keyboardist who could come up with the craziest progressions on the fly (for me to shoot down), but both times we had a different vocalist. The music changed, the workflow changed, everything changed. I wouldn't say either one was better or worse than the other, just different. Same same, but different – as a famous quote goes.
When I get home I'll spend some quality time with my (friend's) Netflix before I start to really work on the production of the songs. I have some ideas, but I already miss having that instant feedback from two people breathing down my neck.
Text by Juha Seppänen 2019
Photo by Patries van Iterson