IDEA
This was our last meeting and it took a place in Klubi where was hold a Design Market and in Tampere-talo where was hold a Christmas market sponsored by the local newspaper Aamulehti. The aim was to talk a little  about Finnish design, but also charity work as the market hold in Tampere-talo was a kind of a platform for different kind of common-good and non-profit organizations and hobby groups to talk about their agenda, but also to collect money to keep the activity going on.
LEARNING
We did talk about it how it is to be a designer or an artist in Finland and Hungary, how to make your living and if there is a possibility for grants. The way it works in both countries sounded quite a lot the same, even if it seemed that in Finland we have more small scale design brands – of which some are also known in Hungary, as I have learnt.
We did talk about form, shape and color of the design objects we saw, and we did agree that what we saw was not Finnish design, but kind of universal. Just something that is popular now and therefore produced.
I also learnt that in Finland we probably have more this kind of common-good organizations than in Hungary.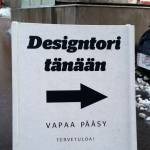 THANKS
Thank you Fruzsi and Boti! Because of you this Each One Teach One -course was such a nice experience to me! I got this feeling that agreeing on what to do, scheduling the meetings, meeting, teaching & learning did work so well with you! And more importantly, with you learning was fun! It was a pleasure!