Last Thursday Sofia invited me to her place, we had planned to cook or bake some Finnish food, but I didn't know what exactly we would make. When I arrived she had already prepared dough for Korvapuustis!
When we started to form the Korvapuustis we figured out that it's actually not that easy. First, we had to get a bit creative, because Sofia doesn't have a rolling pin, so we rolled the dough out with bottles, you can see it in the picture! Then we put a bit too little cinnamon, which affected the taste a bit, but it was not so bad, they still tasted really good! 😀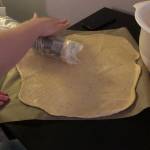 For both of us it was the first time making them and I think I can say that we succeeded!
The smell of cinnamon and cardamom inspired us to talk about different Christmas traditions and Christmas food. We already planned to go to the Christmas market in Tampere, hopefully it doesn't get canceled because of corona!
We also went through baking/kitchen vocabulary again, like oven – uni – der Ofen and sugar – sokeri – der Zucker.
Luckily we made so many Korvapuustis that I was able to take some (well, quite many actually) home, but now I already ate all of them… 🙁