[6] 11.3 Sat, 14:00-19:00 Korean foods by Hyunsoo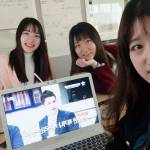 Waiting for Guillaume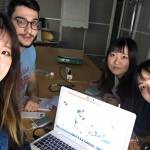 Hyunsoo taught us about Korean foods. Even though I knew all of them, I really wanted to try them because it had been already 3 months to live in Tampere. All of us missed Korean food and that situation was so fun. It looked hard to explain the type of Korean food in English because it doesn't have proper words for this kind of food but Hyunsoo explained them in the best way. So we can feel the whole food in the PPT. In the PPT, there were three main parts; main dish, side dish and desserts.
Main dish was composed rice, rice soup, rice cake soup and soup with dumpling. And side dish was more that those because Korean people eat numerous side dishes at once mainly with the rice. 국(Guk, common soup), 탕(Tang, stiff soup), 찌개 (jjigae, stew), 구이 (gui, grilled dish) 전(Jeon, pancake), 국수(Guksu, noodle), 찜(jjim, steamed dish), 조림(jorim, food boiled down in soy sauce or other seasonings), 나물(namul, vegetables), 튀김(tuigim, friew food), 젓갈(jeotgal, salted seafood), 김치(Kimchi, Korean traditional cabbage cuisine). They made me drool over a lot and even now writing this I got hungry. And for the traditional desserts, Hyunsoo introduced 떡(tteok, ricecake), 엿(yeot, taffy), and 화채(Hwachae, fruit salad). She showed us also the most famous food like Kimchi, Bulgogi and Bibimbap. The last things were Korean drinks such as soju and makgeoli followed by her favorite foods 삼겹살, 막창, 곱창 which are specific part of meat. She also prepared a lot of video but there was the most impressive one to us where a foreign guy ate all Korean foods with satisfied face. His eyes were always glittering when he saw the foods.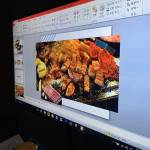 You should try Korean BBQ someday if you read this now!!