Recently, Joulutori opened in Tampere and of course we didn't want to miss it, so our location for the 8th meeting was determined easily 🙂
I went to Joulutori on the opening day with another exchange student (Sanne who also did EOTO :D) and found out that there were some German stalls with German-speaking people and food there, so I decided to introduce them to my students.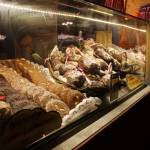 I started our conversations in German only while we walked around and chatted with the stall owners (in German of course haha), so Maija and Kaisa joined and purchased some goods while talking in German, it was very funny because they had to turn everything into German so suddenly, but they did well! 🙂 There were Lebkuchen, Marzipan, gebrannte Mandeln and Krapfen/Quarkbällchen at Joulutori – pretty normal food you can find on any German Christmas market, well done! 😀 I bought some Quarkbällchen (that's how we call them in the state where I come from but they actually have many different names that German people call them) and treated Maija and Kaisa to try them and they liked it, I'm so glad 😀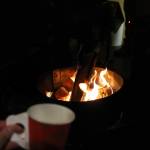 After walking around a lot we decided to sit down in a wooden house, drink some Glögi and talk about the German holiday calendar and compare it to the Finnish holidays. We found out that our calendars are pretty much the same with all the Christian holidays. Exceptions like Independence Day or Thanksgiving exist of course but talking about our different cultures was very interesting and fun 🙂 I learn so much about Finland and Finnish culture despite having this set up as a one-way learning/teaching group only, I like EOTO a lot because of this 😀
See you next time!