[9] 12.5 Fri 14:00-16:00 Korean playing culture by Jieun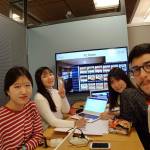 We didn't have much time to meet again now because Hyunsoo would leave 17th of May and the rest of us also in 2 or 3 more weeks. I felt our time disappeared in an instant. This time Jieun brought Korean room culture to hang out. I didn't realize that Korea is full of entertaining places like these much before she taught them. She prepared a bundle of rooms Korea has commonly.
PC room : consisting of hundreds of computers with cheap price and foods we can enjoy.
Singer room : similar to garaoke but more focused on fun and various scale from small to large.
Comicbook café : plenty of comicbooks to read under limited time that we paid.
Escape room : we need to escape from the room using some tools prepared in the room
Multi room : Nintendo wii, X box and playstation for playing
Public sauna : hot sauna, ice sauna, common area with TV, restaurant, game place and hot bath
Pet café : café with dogs, cats, sheep, raccoon, even turtle of some amphibian
Making café : many themes to make rings, pottery, cakes, cellphone case and so on
Counseling café : we can take some tests or counsel in cozy atmosphere
She also introduced Korean holidays designated as national holidays especially New Year's Day, and Chuseok(Korean Thanksgiving Day). In lunar New Year's Day we eat tteokguk(ricecake soup Hyunsoo taught us before) and it is considered that we get one year older by eating it and Korean call it sebae to bow older people in that day. In Chuseok, we also have special foods called songpyeon, which is a half-moon shaped ricecake with the smell of pine and Ganggangsullae, Korean traditional play for that day. Actually it is not common these days so I just knew that Ganggangsullae is for Chuseok. I got new information even of Korea thanks to her.