Last Sunday, we met at Huang's friend's apartment and tasted Chinese traditional sweets named Tangyuan. It was very delicious! I like Chinese food very much!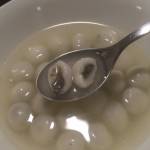 By the way, I thought that Huang and her friend, Li made all of this sweets, but in fact they bought these dumplings. I learned that it is very difficult to make these dumplings and useually people who want to eat it buy it at supermarket even in China later😂
After enjoying dumplings, we talked a lot. The English education system and Japanese movies were our topics of chattering. It was good time and we made a plan for our last Each One Teach One meeting.