So for this meeting we decided to continue our travel around the world by talking about the country of Somaya : Germany.
She talked to us the main city/places in Germany.
Berlin : the capital very famous for his Wall of Berlin ("Berliner Mauer") and the Brandenburger Tor (one of the main building of this city). So it is a very historical city.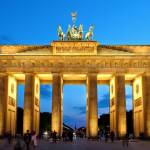 Zugspitze highest mountain of the country. I really want to go there, because I am a fan of ski and snowboarding so it will be a pleasure for to tried my hobbies there !
Hamburg : very famous for his harbor and it is one of the biggest city in Germany
Munich : for people who are very interesting by luxury car, go there ! Indeed you have for example the BMW museum.
And also, we can't speak about Germany without talking about beer ! She talked to us about the Octoberfest, a big festival who celebrate beers !!
Germany is also a very nature country with his famous : Black Forest
It was a pleasure to learn more about Germany during this meeting. Indeed, before I known lot of things about this country but more about his history but not a lot about the places we have to visit. I really want to visit this country, it is why I will go soon visiting one of my friend there !