Our 7th meeting took place on Sunday 19th of November and we met at Jocelyn's apartment in Rauhaniemi. Our mission for the evening was to cook some traditional Dutch food. I was really looking forward to it because, well, food is always nice. We made carrot and potato stew with meatballs for dinner and a stroopwafelcake for dessert.
Jocelyn had already prepared the meatballs when I arrived and here is the recipe for the meatballs.
Gehaktbal                                                                  Meatball
200 g Gehakt                                                            200 g Minced meat
1 tl Zout                                                                      1 tsp Salt
2 tl Nootmuskaat                                                    2 tsp Nutmeg
2 tl Paprikapoeder                                                  2 tsp Paprika powder
1 tl Peper                                                                   1 tsp Pepper
½ Ei                                                                               ½  Egg
50 g Paneermeel                                                     50 g bread-crumbs
Bereidingswijze gehaktbal / Method of preparation meatballs
Klop het ei. / Beat the egg.
Voeg de kruiden en paneermeel toe. / Add the spices and bread-crumbs.
Voeg dit toe aan het gehakt. / Add this mixture to the minced meat.
Kneed tot een compacte massa. / Knead till a compact mass.
Verdeel de massa in 2 stukken en rol tot gehaktballen. / Separate the mass into two pieces and roll them into a meatball.
Braad voor ongeveer een uur. / Roast for about an hour.
When I arrived we started preparing the stew. Here is what you need for the stew.
Hutspot                                                                     Carrot and potato stew
750 g Aardappelen                                                 750 g Potatoes
750 g Wortelen                                                        750 g Carrots
1 Ui                                                                               1 Onion
25 g Boter                                                                  25 g Butter
50 ml Melk                                                                50 ml Milk
Snufje zout en peper                                             Pinch of salt and pepper
Bereidingswijze hutspot / Method of preparation stew
Schil de aarappelen en snijd deze in evengrote stukken. / Peel the potatoes and cut into equally sized pieces.
Snijd de ui in kleine stukken. / Cut the onion into small pieces.
Schil de wortelen en snijd in kleinere stukken. / Peel the carrots and cut into smaller pieces.
Doe de aardappelen, wortels en ui in een pan. / Put the potatoes, onion and carrots in a pan.
Vul de pan met water en voeg een snufje zout toe. / Fill the pan with water and add a pinch of salt.
Kook dit voor 20-25 minuten. / Cook for 20-25 minutes.
Giet het water af en stamp alles door elkaar. / Pour off the water and mash everything.
Roer de melk en boter erdoor en breng op smaak met zout en peper. / Mix the milk and butter with the stew and season with salt and pepper.
Serveer met gehakballen en jus. / Serve with meatballs and gravy.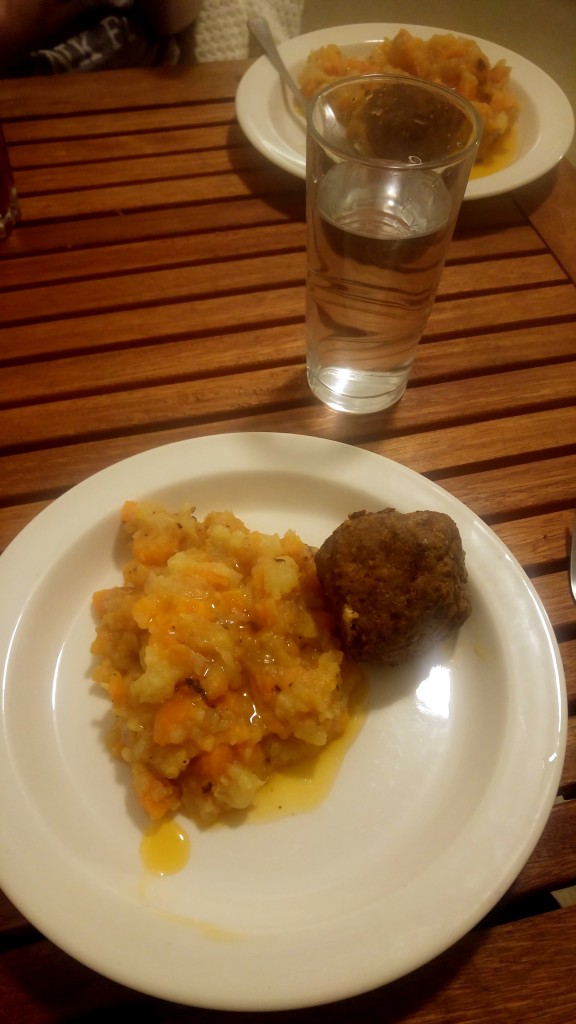 And then for the dessert we made a stroopwafelcake.
Stroopwafelcake                                                  Syrup waffle cake
200 g Zachte boter                                                 200 g Soft butter
200 g Suiker                                                              200 g Sugar
4 Eieren                                                                      4 Eggs
200 g Bloem                                                              200 g Flour
2 tl Bakpoeder                                                         2 tsp Baking powder
2 tl Vanillesuiker                                                      2 tsp Vanilla sugar
2 Stroopwafels                                                        2 Stroopwafels (Syrup waffles)
Snufje zout                                                                Pinch of Salt
Bereidingswijze stroopwafelcake / Method of Preparation stroopwafelcake
Roer de boter zacht en voeg de suiker toe. / Mix the butter and add the sugar.
Roer totdat het luchtig is en voeg een voor een de eieren toe. / Mix until it's smooth and add the eggs one at a time.
Voeg al mixend de bloem, bakpoeder en zout toe. / While mixing add the flour, baking powder and a pinch of salt.
Breek de stroopwafels in kleine stukjes. / Break the stroopwafel in small pieces.
Voeg de stroopwafel en vanillesuiker toe. / Add the stroopwafel and the vanilla sugar.
Roer alles goed door elkaar. / Mix everything together.
Vet de bakvorm in en giet het beslag in de vorm. / Grease the baking mold and pour the batter into the mold.
Bak voor ongeveer 60 minuten op 180°C. / Bake at 180°C for about an hour.
The food was really good and I am definitely going to make them again! In the end, here is a photo that describes our cooking. We both cut our finger while cooking but it was worth it!