Jenny,Toni and my friends and I went to sauna yesterday(17.9.2018,our second time meeting) where was near the TAMK and I have to say that was our first time to experience sauna in Finland. Although it's extremely hot in the sauna room,even the floor and the stairs,I have to admit that was so comfortable and relaxing.When I entered the room,the temperature was about 60 degrees, Jenny poured water on the stone and the room became hotter,maybe 80 degrees? I don't know it exactly,but I thought the principle is cold water encounters hot stones that turn into water vapor and it evaporates quickly into the air. Jenny,Toni,Huang and Li went to the swimming pool and played together after sauna.It's a pity that I can't swim because I haven't learn it in my hometown before,so I didn't enjoy with them.
When they finished sauna,we chatted at the cafe.Jenny continued teaching us the number from 11 to 30 and I found some regulars in these numbers : there is the word"toista" behind the numbers from 11 to 19 and there also have the word "kaksikymmenta" in front of the numbers from 21 to 29. And we also learned the name of family numbers from each other.The tone of Chinese Pinyin maybe a little difficult for Jenny to pronounce and they were also difficult for me when I was a small child.Besides,a letter in Chinese has four different pronunciations and every pronunciation represents four different meaning.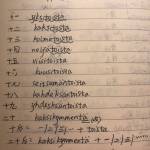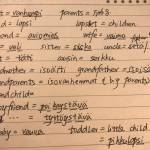 Time flies so fast and two hours passed without noticing it. The time with Jenny and Toni was really happy for me.At the end of the chat,we decided to invite Jenny and Toni to join the party which will hold this Sunday.At that day,we will cook some simple but delicious Chinese dishes for them and I hope they will fall in love with the taste of the Chinese food!!