Yesterday we met at Café Europa to continue learning in a playful way.
We decided to play "Alias" – we didn't played it with its actual rules because Melanie and I don't know that many Finnish words yet, so we picked the words from the cards we already know and explained them to Hanna and Antero in German! They had to guess the word in German. 😉 When it was their turn, they explained one of the easier words from one of the cards in Finnish. And Melanie and I had to guess!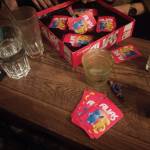 It was a very playful and fun way to practise our listening comprehension skills! It's also good to learn some new vocabulary. I was really happy about recognizing one or more words on one card because it felt like I made quite some progress in the last three months. Of course, I still don't speak Finnish, but I get more comfortable with the language and when I see combined words, I can guess what they mean.
Besides working on my vocabulary knowledge I'll try to write some easy sentences in Finnish and bring them to our next meeting. I feel like I know quite a few words by now but feel uncertain how to put them into sentences. That's something I would like to work on in the future! 🙂