For this meeting we decided to meet up at a local coffee place and decided to go to one of the Espresso Houses in the city centre. Firstly, we just talked a lot about our lifes and travels we've made in the past. We then completed another trigger for her in which ten sentences had to translated into German and my partner actually already did a really good job at speaking and writing German, so I really had to focus at sometimes to be able to still improve her sentences.
In this meeting I already tried to only speak German and it worked out pretty well as it was a great training for my partner. Furthermore, I learned how to introduce myself in Estonian. Luckily, I already know a few Finnish words and Estonian has got a few similarities.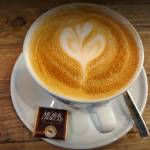 I had a great meeting and lots of fun!