For this meeting we met at the Waffle Café again!
We learned about how to say the time. Telling the hour in Finnish is quite similar to English, but is Spanish it is slightly different. What we did was drawing some clocks with different cases and wrote the time in Finnish and Spanish. I think we need to practise a lot to learn it properly.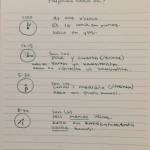 We learned the greetings we should say depending on the time of the day.
We also talked a bit about Lapland because I really want to go there this year. Getuar has never been there but Janica has worked there during Christmas season some time ago. So it was good that she could gave some tips 🙂