Yesterday we had our fifth meeting, so now we are half way through with our meetings that we have to write blog entries about.  It would be nice to meet more times, of course. Time has gone so fast!  This time Gayeon and Junhyeok came to my place to eat lunch, and I had prepared some Finnish foods for them to try.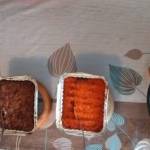 So, the foods there were:
First picture, starting from the right: oven-baked sliced potatoes with butter, liver casserole, carrot casserole and Karelian stew.
Second picture, starting from the right: egg cheese aka sour milk cheese (which I had made myself), crushed lingonberries with sugar, Karelian pasties, salad and butter.
There are four plates on the table, because I live with my boyfriend, who ate with us, so there were four of us. For dessert there was berries (strawberries, raspberries and redcurrants) with whipped cream and quark mixture.
It was a bit difficult to come to conclusion of what foods to serve Junhyeok and Gayeon, but I got a lot of good suggestions from my friends and family. Also I searched Wikipedia about Finnish kitchen and traditional foods. I know what foods are traditional Finnish foods and what foods we eat in Finland, but it doesn't mean that it would be easy to make a menu.
After we ate we studied bit of each other's languages. This time I had prepared some words about living and some words about food also. They had prepared food related words for me. I think it is good that we have our own system of teaching words, there are column for word in Korean, English, and Finnish, so it is easy to teach and learn.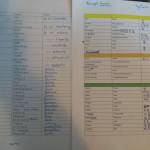 My teaching was pretty much just going through the pronunciations of the Finnish words with Gayeon and Junhyeok. They are getting the hang of pronouncing Finnish quite well. When I started to explain some words, I think I explained things the difficult way, but I hope they weren't too confused. As a learner the writing part is the challenging part for me in learning Korean. Now it is quite a lot just replicating the words. Maybe I will slowly figure it out, hopefully!
I got a gift from Gayeon that had postcards, memos, a pencil, and face-masks in it. Thank you for the gift! All of the items are really sweet and beautiful.
Next week we are going to go for a concert, and talk about cultural aspects. I really look forward meeting Junhyeok and Gayeon next Friday! 😀
안녕!