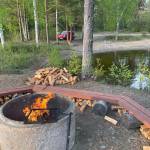 This week we had a bit of a different meeting since it was our last official meeting, and I was already on a road trip back to Germany. I was able to show the others a bit of the beautiful Finnish landscape, where we decided to set camp for the night.
We had no special topic on our agenda for today and as it happens somewhat naturally lately, we got to the corona topic quite quickly. We talked about the different strategies in our countries. This was quite interesting for me because in a few weeks I would be back home in Germany again. But it was also interesting to see how some rules are handled differently in France.
We agreed that after COVID we want to make a meeting in person possible. I have been to some of the more southern parts of France, but there is still a lot left to see, and therefore I would really appreciate the opportunity. We have also created an Instagram group and hope to stay in touch that way. So, fingers crossed!