The other day, 1st of October, we had our second meeting for "Each One Teach One".      Arne and Thomas  brought  pancakes  because they  wanted  to  teach  us  to  cook  waffles  but we didn't have the machine, and the rest of us (Cristina, Marta, Angel and me)  cooked a spanish omelette.  
The idea was to teach them (Belgian guys) something about our culture, and we thought to start for the gastronomy. So, firstly, we put the ingredients on the table and we wrote the names on the blackboard (in english, spanish and dutch). We could notice the big differences between our languages again, and it was really fun because we were trying to read the words but it was really difficult to pronounce them correctly.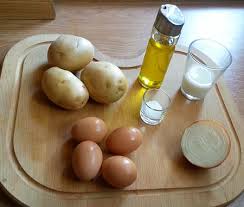 Then, we started to cook. While Thomas and me were beating eggs, the others were peeling the potatoes. Then, everybody cut potatoes and when they were ready, we fried them with a little bit of oil.  
After that, we had to mix eggs and potatoes in the pan but it was really fun because there was an enormous quantify of ingredients, and we didn't know how to turn the pan without destroying the omelette… 
Angel wanted to do it and, under the watchful eye of the rest, in 3,2,1…he got it! All of us sighed and we started to clap while we were laughing. So, when the omelette was ready… it was the best part… EATING! 
We started for the omelette and I think that it was really nice, although as "our guest" said, it wasn't the best that we had tried… I'm sure the next time will be better 😉 
Finally, we ate the pancakes that Thomas and Arne brought and, although it isn't a traditional belgian food, they were delicious! 
In conclusion, I think that it was a great experience for all of us, because we could teach a little bit of our culture (Spanish), while we enjoyed cooking and eating! I wish the next time we can get a waffles' machine, because I'm dying to taste them…
Thanks and until the next post!