I met today (13th March) with Joona for our second meeting. We decided to meet up in TAMK and our meeting lasted about an hour. It was pretty short this time but we were both busy this week and decided to meet for a shorter time instead of not meeting at all J I started as French teacher and then Finnish learner.
– For the learning session, I wanted to focus on directions. It is something really important and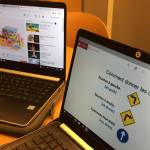 I could not remember it so this was the perfect opportunity to re-learn it again! It was great to learn with Joona because he gave me some typical sentences (like "I go to the store" or "turn left") that will be easier to remember. He also taught me the official written way of saying it as well as the spoken language which is exactly what I want to learn during this Each One Teach One course. In addition, he showed me a video of a Finish-English vocabulary rap music (Paleface: Hip Hoppi Englanti)!
– For the teaching session, as Joona wants to learn something useful during a trip to Paris, we continued our trip to France by studying the directions and personal pronouns. It was nice to speak French again with him, he is pretty good at French language and I am really impressed by his pronunciation!
At the end of our session, we were both pleased with the learning and teaching outcomes! It was a great session and I am looking forward to the next one! 😀