Topic for the seventh meeting was differences between Finnish and Spanish ways to celebrate.
In Finland is common that when you are young —> your parents organize your birthday parties and all your classmates come to celebrate you to your house. After elementary school, parents are not so ambitious to organize those anymore.
In Spain things are pretty different. When girl turns 15 —> her parents spent a lot of money to organize her birthday parties. There is two ways to do it:
Parties abroad for few friends
Huge parties for 50 to 100 people
More common way is to organize big parties. One show is dancing. There is a rule that dad and daughter dance first and after that other guys can dance with the girl. Other custom is to buy 15 candles for a girl. She gives all those candles to her most important people when they eat birthday cake. Sometimes there is fights when someone doesn`t get a candle (better to choose wisely).
Here is our own party picture for you 😉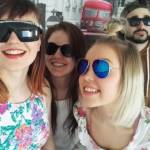 -Minttu <3