For our 9th meeting we decided to go to an ice hockey game. It was really exciting!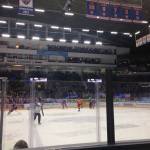 This game Tappara (Tampere) played against Kookoo (Kouvola). At the beginning it was really exciting because it was 0-0 for quite a long time, but at the end of the first part Tappara scored the first goal. Tappara stayed in the lead for the whole game and won with 3-0.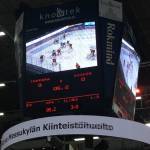 In my home country ice-hockey isn't popular at all. I don't know anyone who plays or played it. But I have to say that I really like watching ice-hockey, because it's really exciting and there is a lot of action. Popular sports in my home country are soccer, hockey, volleyball and ice-skating.
During the breaks we talked about sport related words in our languages:
| | | |
| --- | --- | --- |
| English | Finnish | Dutch |
| Ice-hockey | Jääkiekko | Ijshockey |
| Sports | Urheilu | Sport |
| Match | Ottelu | Wedstrijd |
| Referee | Tuomari | Scheidsrechter |
| Goal | Maali | Doelpunt |
| Ice skates | Luistimet | Schaatsen |
| Helmet | Kypärä | Helm |
| Captain | Kapteeni | Aanvoerder |
| Goalie | Maalivahti | Keeper |
| Team | Joukkue | Team |
| Field | Kenttä | Veld/baan |
| Opponent | Vastustaja | Tegenstander |
| Hockey stick | Jääkiekkomaila | Hockey stick |
| Baseball | Pesäpallo | Honkbal |
| Skiing | Hiihto | Skiën |
| Soccer | Jalkopallo | Voetbal |