Today we decided to meet at the K-market where we bought Mexican food supplies for our Mexican dinner: Guacamole and Quesadillas. After buying all the supplies where we headed to TOAS city.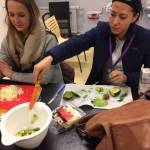 The starter was guacamole here for Fernanda used a couple avocados, lime and onions and squished it all together. It was so delicious during the time of preparing we talked about the Mexican food culture the Mexican food staples are mostly tortillas a long with beans, rice, tomato's, chili peppers and different kind of meat as chorizo and Mexicans love spicy food sadly the peppers we bought weren't spicy at all :).
Different to Germans, Mexicans eat much later then we are. In Germany it is considerate unhealthy to eat after 8 or 9pm were Mexicans not even start to eat their dinner :).
As German are known for there beer Mexicans are for tequila maybe when we are lucky we meet Fernanda's sister in may and she can bring some yummy original Mexican food and maybe a tequila with her ;).
After our starter we or more Fernanda prepared for us Quesadillas one with meat and one vegetarian variant for me wit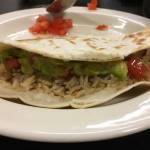 h rice. For that we but cheese in to the middle of the tortillas and heated it up that the cheese was melting then we put the meat or rice with the rest of the guacamole and tomatoes in it. During our dinner we talked about random interest as other students from the residence joint us in the kitchen. After long and funny talks we talked
shortly about our next meeting at the mall and when the best time is for us to watch a hockey game. 🙂