This Friday we visited the Moomin Museum in Tampere-talo. This time we had decided that we would have a holiday and we wouldn't study languages this time. Of course, the moomins are quite  big part of Finnish culture, so maybe some cultural education took place. We also had one extra friend with us in the museum, which was fun.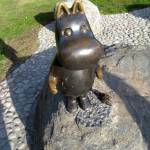 There was a statue of the Moomintroll outside the Tampere-talo where it is easy for visitors to take pictures of themselves with the statue.
The customer service in the museum was great. There is always free tickets on the last Friday of each month, and there were a ticket giver right at the main entrance. I was first to get there, so I got tickets for us all, but all others came right behind me and also received tickets, so I gave the extra tickets back to the ticket giver.
I play the flute, and there was this kind of stand right beside the entrance to the museum, so I just had to ask for them to take my picture.
In the museum there were a lot of moomin-scenes made by Pietilä, which were really cute. I tried my best to tell our group what each scene was about or tell some other information about them. I have read some of the Moomin books and watched some of the episodes from the Moomin TV-series, so I knew what I was talking about. After the museum visit we went to the Moomin shop in the Tampere-talo.
I forgot to tell our group about Tove Jansson, and I didn't even come across much of information about her in the museum. I was so enchanted of the museums display. Next week (or this week) we are back to business to study languages, and I look forward to our next meeting!