This meeting was very fun because we talked about music! Music from our countries and music that we like or listen, so we keep playing music the whole evening.
Getuar and Janica knows some music in Spanish but mostly reggaetón  and some cumbia, both which I don't like, so I tried to show them some other styles of Latin American music. I didn't know that Latin American music was heard here!
Janica likes Latin American music a lot because she says that it has more rhythm and is happier than finnish music. Getuar and Janica like J Balvin and Don Omar. Funny thing is that I don't know who J Balvin is or what he sings! I have Heard his name sometime but that's it!
In the other hand, I used to listen to The Rasmus when I was a teenager so I was very happy that I could see them live in Särkänniemi this autumn!! They were a very famous band in Latin America back then.
I showed them some music from Carlos Vives. He is a Colombian singer, that mostly sings traditional Colombian cumbia, ballenato for example.
I also showed them a singer that I am listening a lot nowadays, Natalia Lafourcade. She is a mexican Singer, who has sang rock, pop, bossa nova style, and now she is getting involved with folclore of whole Latin America. I think it is very good to have artists that are getting back to our traditional music!
As Janica has been living in Buenos Aires I asked if she knew the Argentinian rock band Soda Stereo as they were the most famous Latin American back in time. I showed them some classics from this band but failed to show them the song "La ciudad de la furia" that directly refers to Buenos Aires city.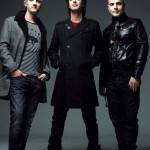 This meeting was a very good one because me talked about a lot of things involving music and traditions and we learned a lot of things!!