Hi!
Our tenth (and unfortunately the last) meeting was only two days before Kurumi left from Tampere. We decided to go to Pyynikki's sightseeing tower. We spent nice time in cafe and we enjoyed drinks and Pyynikki's famous doughnuts.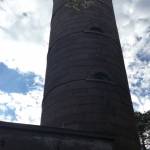 That meeting was different from our previous meetings because at this time we hadn't planned anything special for our meeting. But as our conversation flew I learnt that I can alwayl learn different things from the other countries and cultures and teach something about my country and culture. We talked for example Kurumi's experiences during her exchange student year in Finland. She told which has been her favorite places and experiences in Finland. That helped me because now I know which places I should recommend for other exchange students in the future.
We also talked how did our course has went as a big picture. We really didn't made to make all things I planned before course but I think I have learnt a lot of things of Japanese language and culture. Now I can speak a little Japanese and I can cook some Japanese foods all by myself. I know also many things of Japanese music culture, festivals and movies. I also taught many things of Finnish language and culture. As I taught I hope my poor English improved even a little (but I'm still fighting with it).
As we all were quite busy, we didn't make to finish our course during one semester. It took a whole academic year. But I am very happy that I took part in this course. This has been one of my favorite courses in a university of applied sciences because studying experience has been totally different from the other courses.