On the 10th of March we went to the Pispala cafe to enjoy the new place that was recommended to me by my friends who already went there. We really wanted to try waffles, but unfortinately, they do not serve them in the afternoon, but they offer some of the Asian dishes. We decided not to spend a lot of money and odered vegetarian spring rolls that were the cheapest. I also took Aperol Spritz. The area where Pispala cafe is located looked pretty nice, so I also took some pictures of it. The weather was chilly but sunny, which made it even prettier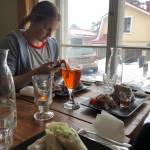 Unfortinately, the spring rolls were absolutely tasteless and we did not like them at all. But our meeting was still really pleasant. We discussed the differences between Russian and German girls, etiquette, dating rules and norms. Vanessa pointed out that Julia and me have very smooth and gentle moves, which I, personally, never noticed. Nessy also helped us with the homework for the German class in TAMK.
Overall we had a really nice meeting. In the end we took a bus with Julia and Nessy took her bike. She is really sporty and always goes by bike. I really admire it and think that it is really cool.