On the 6th of December it was Finnish Independence day and we thought that it would be a nice idea to arrange our last meeting then 🙂 We met in the city centre and went to the coffee place in Tampere Hall to enjoy the last cup of coffee in this company together this year because the second period is almost done and we will have our winter holidays. We shared our plans for Christmas and New Year, summed up all our meetings and made our own feedback for EOTO course what we've learnt and what did we like about it. We all agreed that it would be nice to continue getting together for language practice and just for fun as well.
After coffee we attended the Christmas market in the city centre, it was full of nice stuff, we learned some new words about Christmas and holidays and didn't notice how time flew and suddenly fireworks started! That was amazing!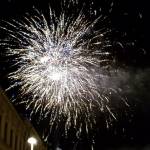 After watching it we said bye-bye to each other, wished luck in future language studies and went home. 🙂 Thank you EOTO for the opportunity to meet nice people!