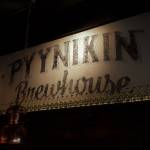 This was our second meeting with Chinese-Finnish-group and we decided to go to a Finnish restaurant. It was quite hard to find typical Finnish cuisine with variety on the menu, but after asking around I got a recommended Pyynikin Brewhouse. Located right next to Koskikeskus mall in a beautiful old brick building it serves local beers and dishes named after locations here in Tampere. I ordered Kaleva chicken skewers and they were tasty. I think this was a good introduction to Finnish restaurant culture and behavior.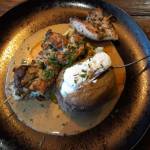 Kaleva chicken skewer (kanavarras) with baked potato (uuniperuna) filled with cream cheese
We both love food and eating, so it was very easy to discuss about the topic and we will continue eating through cultures and learning the basics.