Holá!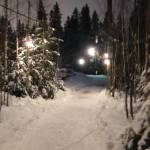 Today we met with only Anni and Olivia and I have to say I´m a very happy person now! We went to the famous Kaupinoja sauna (1st time for me) and I finally got a chance to go winter swimming in avanto! We dipped our selves in the freezing lake Näsijärvi for about 5 times and at one time I even took some swimming moves.  It was horrible and wonderful at the same time. Sauna was a cool experience as well and we went there every time after we were in the lake.
http://www.talviuimarit.fi/english-info/
We had good talks again about differences in our cultures and we wanted to know a lot what Olivia thinks about Finland and what has been the best things about Finland and Finns. I think the best lessions about this course is getting to know each other and our countries and some lessions on the side. For example when we were on our way to Kauppi, we went to a store to buy sausage and stuff so we had a little teaching lession in the store about Finnish words and sentences as well as in German.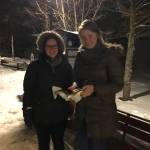 I like our group very much and I hope the next time Hanna and Zsofia will be able to join us again. We are going to a hockey game so that should be fun! 🙂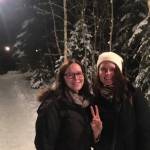 -Hanna