Yesterday we met for the 7th time. This time we went to see a concert, and of course we studied a bit before the concert.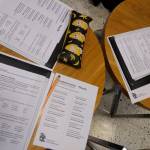 The concert was in Pyynikkisali, and the performers were all students in TAMK. We met at the hall of the Musiikkiakatemia's campus, where we studied. This time I thought it would be nice to teach a bit about grammatical aspects of Finnish language, but it was slightly difficult to find a good book about it in English, quite a lot of the books in Metso library where I went were in Finnish, surprisingly.
I prepared only few things to teach, so that there would be enough time to study before the concert. And we had perfect timing in our teaching/learning process. My copying machine didn't work properly, so the material I had prepared didn't have all those nice columns it has had before. It went fine. I maybe rushed a touch in my teaching.
As a learner I'm now trying really hard to read Korean letters, but now I'm mostly struggling with the reading of vowels. Pronunciation isn't good either, but I'll keep on practicing.  For some reason it is difficult to remember the Finnish translations for the words for me.
After the study session we went to the concert, MusTen duettokonsertti was the name of the concert.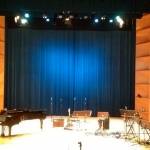 This is the picture of Pyynikkisali before the concert. It is a familiar concert hall for me because I have performed there myself several times during my last studies in TAMK.
I think we all enjoyed the concert, and it was good that we went this week there, because last week's concert would have been mainly only violinists performing in the concert. This was more interesting concert for us three.
See you next week! 😀