As It has been stated before, We truly love food. So this time I brought the ingredients to make some "Tacos Dorados" at Maria's place. I bought "Mazeca" a brand of corn flour used to make "Tortillas", Lettuce, cheesee, chicken breasts, cream and Potatoes.
First I show Jacqueline, Maria and Nedas how to prepare the dough. Latter, we form medium size balls with the dough, just big enough to get a tortilla out of them. The process is simple, in Mexico we use a metallic press that squishes the doug, but here we had to improvise.
We use instead a plastic bag and common plate, with the bottom part of the plate we push the balls down until we got a round shape. Later, I show them how to cook  the tortillas on the pan.
While we cook the tortillas, We boil on the side, some potatoes and chicken, later on Nedas, Jacky and Maria help me peal and mash the potatoes and pull the chicken.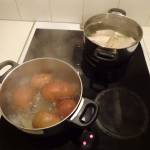 The next step was putting the mash potatoes and pulled chicken into the cooked tortillas, roll them and deep fried them in oil.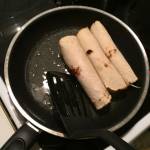 At the end when we got to serve the food we decorated the tacos with the cream, the cheese and the lettuce. (One mistake I made was forgetting the salsa.) But in the end, it is the best recreation of the dish we could have made by ourselves with the ingredients I found here in Finland.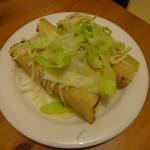 I believe that they  enjoy the tacos a lot, they even got a little bit creative and started mixing the chicken with the mash potatoes. While we cook, I show them some of my favourite tunes in spanish. It was a nice evening, and I hope that in the future they try to recreate the recipe by themselves back in their countries.