Hey everyone! 🙂
My name is Elisa and I'm a student here in TAMK. This is my fourth and final year of vehicle engineering studies. I am teaching Finnish to my pair Jocelyn who is teaching me Dutch.
Our first meeting was 19th October and it took place at the new cafe and restaurant Puisto in Koskipuisto. The cafe was really cute and there were many different delicious-looking cakes and pastries. I chose blueberry tea and a piece of lime and white chocolate cake. It was really good!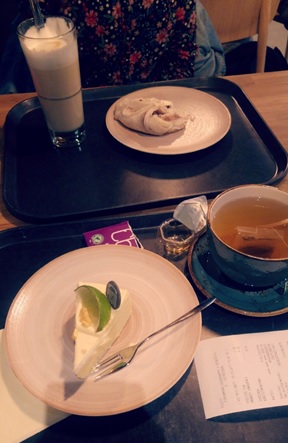 I was excited to learn some Dutch because all I knew about the language was that it kind of sounds and looks like English and German combined. I learned numbers from 0 to 100. First I repeated the numbers after Jocelyn and it was surprisingly easy. That was probably because I used to study German when I was younger and they sound somewhat similar. After repeating the numbers, I tried to write them down but I got almost all of them wrong the first time. While writing them down correctly I learned some things about pronunciation for example the letter v is pronounced as 'f' and 'ij' is pronounced as 'äi' like in the Finnish word for mother 'äiti'.
Jocelyn already knew the numbers in Finnish because she is taking the Basics of Finnish course. I taught her the shorter spoken language versions of numbers. We also taught each other how to say hello and goodbye.

Until next time!
Doei!