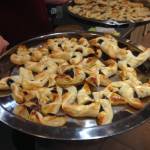 This time we decided to go to the event that was organized by TAMKO, where we could do our own traditional finnish pastries : Joulutortut! We met there and started shaping the star shaped pastries that are mostly made around Christmas time. Then we added the delicious jam! While waiting for them to be ready we talked a lot about our own Christmas food. I learned that there is no traditional Christmas food in China since its not an official day that most of chinese people celebrate. But some do gift eachother an apple. Since Christmas Eve is translated as a safe night, an apple is translated as the fruit of being safe. This is the reason why some chinese people like to give an apple as an Christmas gift to friends! Some do also enjoy going to karaoke and spend time with friends.
It was very interesting to see the difference between the countries since Germany celebrates Christmas with the family, while enjoying traditional German food and giving eachother gifts.
After learning the months, we enjoyed the rest of the night and the warm and tasty Joulutortut!
| | | |
| --- | --- | --- |
| English | Chinese | |
| January | 一月 | |
| February | 二月 | |
| March | 三月 | |
| April | 四月 | |
| May | 五月 | |
| June | 六月 | |
| July | 七月 | |
| August | 八月 | |
| September | 九月 | |
| October | 十月 | |
| November | 十一月 | |
| December | 十二月 | |