Ronia the Robber's daughter – Ronja Rövardotter – Ronja Ryövärintytär­­
The Swedish movie evening. Svensk film kväll.
National Audiovisual Institute (KAVI) arranges movie evenings once a week to this small movie theatre called Niagara.
The place is located in Kehräsaari, next to Koskikeskus.
I noticed they have my childhood's favorite movie on their spring program. So I absolutely thought it would be great idea to have in our Each one – Teach one project.
And the movie happens to be very important to Emelie too.
The film is based on famous Swedish author's, Astrid Lindgren's children's book.
The story is basically the same than Romeo and Juliet, but for children and it is taking place in the northern forests full of dangerous fairytale creatures.
I have to say, that watching that movie again now when I'm adult, takes it completely to another level. The story still feels just as wonderful as when I was a kid. It made me laugh and almost cry on the same parts. All thanks to the director, Tage Danielsson's good taste and great vision.
The movie was played on a digital copy of old film reels, KAVI didn't have a permission to take off the black parts which comes when the film reel is changed. The quality of the film copy wasn't that good either, but I think it's a part of an old movie's charm that it looks a bit messy and scratchy.
The small theatre wasn't that full of people, but there were adults, who wanted to see the film again now as grown-ups and there were adults who brought their own kids to see their childhood favorite film. The mood in the small theatre was so warm and nice. People lived through the film.
I'd like to recommend the movie to everyone of you. It doesn't matter how old you are, the story is timeless. Although the movie is from the year 1984, the practical effects [the effects made on set during filming] look amazing.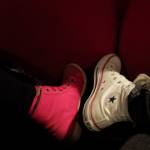 Characters (swe —- fin/eng —- eng '83/'85)
Ronja – Ronja – Kristy/Ronia
Birk – Birk – Burl/Birk
Mattis – Matias – Matt
Lovis– Loviisa – Lena/Lovis
Skalle-Per – Kalju-Pietu/Bold-Pietu – Skinny-Pete/Noddle-Pete
Borka – Borka – Ranulf/Borka
Lill-Klippen – Pikku-Plootu/Little-Plootu – Snip/Little-Snip
Undis – Undis – Hanna/Undis
Sturkas – Rontti/Scoundrel – Bumper
Turre – Tuuri/Luck – Tapper
Tjorm – Räyhä/Ruffian – Tobbit/Torm
Knotas – Rähjä/Ragged – Knott
Labbas – Lorvi/Loiterer –
Film industry words:
eng-fin-swe
director of photography (dop) – dop/kuvaaja – chefsfotograf (A-foto)
screenplay – käsikirjoitus – manus
scriptwriter – käsikirjoittaja – manusförfattare
role – rooli – roll
gaffer – valaisija/gaffer – chefselektriker
sound designer – äänisuunnittelija – ljuddesigner
boom operator – puomittaja – b-ljud
director – ohjaaja – regissör
assistant director – apulaisohjaaja – regiassistent
producer – tuottaja – producent
costumier – puvustaja – kostymör
scenographer – lavastaja – scenograf
staging – lavastus – scendekoration
property manager – rekvisitööri – rekvisitör
prop – rekvisiitta – rekvisita
actor – näyttelijä – skådespelare
runner – runneri – inspelningsassistent