This time Jacqueline invited us to an event she was hosting with some other German girls at the Catering Studio. This time the girls didn't prepared the dishes but another student from TAMK did. They had a menu on the wall and although I wanted to tried the "Schnitzel" I went with the salad "Kartoffelsalat" once more. We spend the evening talking about our plans for Christmas and when did we planned to go back to our countries.
Futhermore, we meet with some Maria and Jacqueline friends that we met on Oktoberfest and we learn how to play a German game called "Kniffel". the point of the game was to collect the same numbers or a set of combination similar to the ones in Poker.
You could only roll the dice 3 times and you can keep the ones you thing are good enough to score a good combination.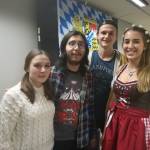 We also had the opportunity to see Jacky with her "Dirndl" on, this attire is mostly use in celebrations in Germany  or big gatherings like Oktoberfest.