Hello from Thessaloniki, Greece!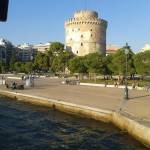 It feels like I just got here and now I'm already halfway of my exhange! The time really is flying over here! I have met amazing people and experienced a lot. There's over 500 Erasmus students in the city so it's impossible to know everyone but on the other hand there is always someone to go out with or have fun with. And all the events that the student organizations are organizing are really nice and really a good way to get to know the other Erasmus people.
My classes here have been pretty easy, same level than they were in Finland except here the teaching language is of course English. I only have classes from Tuesday to Thursday so I have a lot of free time which is nice! The long weekends are really good for travelling and it's also really cheap to travel to the neighbouring countries. So far I have been to Sofia in Bulgaria and Skopje in Macedonia and of course to Athens and some smaller villages near the city.
A part of me has already fallen in love with the city and the Greek culture. I love the way Greek people enjoy their everyday life. The culture of going out to eat or just for a coffee with your friends and family almost every day is really nice. I think that's the reason this city is full of cafes and tavernas and restaurants. Even though the city and the buildings are quite old I still think it's beautiful. The city is right next to the sea and there is a beautiful walking street in the seaside. There are also these ruins of old fortresses in the city center which gives the city a unique feeling.
There are also some things that annoy me. For example the traffic is awful and there are these demonstrations on the streets every once in a while and when they happen all the stores and cafes and even streets are closed so you can't really do anything. And the weird thing is most of the times you don't even know when they are having these demonstrations. But it's a part of the culture and there is way more good things than bad.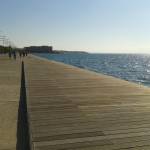 All in all my new life here has been really good so far. I might say that I'm having the best time of my life. I have gotten some really good friends and I know that we will be in contact after this time aswell.
But now I have to go and enjoy the rest of my Erasmus, καλησπέρα everyone!