SISU
Having sisu means that someone is unyielding and determined. He/she has endurance and resilience. That's what the Finns are known for and very proud of. Sisu can be connected with sports. Especially cross-country skiing and ski jump where Finns have succeeded.
PERSONAL SPACE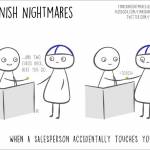 Finnish people need their own personal space. It's not okay to go and hug or kiss a stranger or even an acquaintance. I guess almost everyone is familiar with a picture from a Finnish bus stop where people are standing a meter from each other just because they need their own space. They might do that even if it's raining and everyone won't fit under the shelter. Or perhaps it's just a bit exaggerated.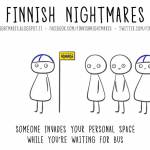 SILENCE
Finnish people don't mind being silent. Sometimes it's even desirable. When you're driving a car in a bright summer night and listening good songs. Or when you're enjoying the heat of the sauna. You seldom hear strangers talking to each other in an elevator or in a bus. First foreigners might find this behavior strange and disturbing but during time they might start to enjoy it. Enjoy those lovely moments that doesn't need to filled with small talk.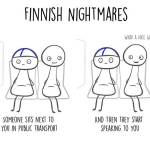 Pictures: http://finnishnightmares.blogspot.fi/